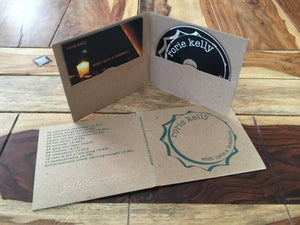 LOOKING FOR A DIGITAL DOWNLOAD ONLY? Click here.
Wish Upon a Bottlecap is Rorie's full length debut album. Spanning 10 years of songwriting, the subject matter of Wish Upon A Bottlecap is both personal and political. rorie explores love and relationships with heartfelt reflection, but she also turns a serious and critical eye on the homogenized culture of America today, and what it's like growing up inside of it. The songs American Daydream and Sincere shed some light on what it's like for a woman to try to come into her own in what is still a male-dominated industry.

Fun fact: When this album was completed, Rorie did NOT have the funds to manufacture it. She was determined to keep her release date, so she bought wholesale cardboard CD cases, and stayed up all night silkscreening the album artwork and track list onto the cases by hand. The CD still comes in a screen-printed 100% recycled cardboard eco-pack, and includes full color liner notes and lyrics.