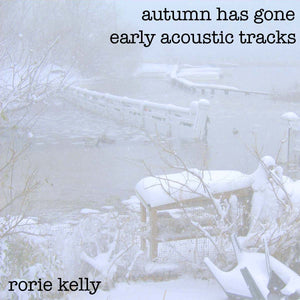 Rorie's first ever homemade acoustic EP.
1. Autumn
2. Pennsylvania
3. This Is Not A Love Song
4. One False Move
5. Sincere
Recorded prior to her debut album "Wish Upon a Bottlecap", these 5 tracks capture rorie at her "redheaded tornado of sound" best by stripping down to just vocals and acoustic guitar.

Included in this collection are popular standards Sincere and Pennsylvania, as you've never heard them before, along with two stunning exclusive tracks only available on this EP.
Fun fact! This EP was originally released as a 4 song burned CD titled "The Four Songs I Have Copyrighted Right Now." Later, "Autumn" was added and it was re-released with the title "Autumn Has Gone." The physical versions are both out of print but the music is back  for you to enjoy digitally!